Stripy toque - black
Regular price
$70.00
Sale price
$50.00
Unit price
per
Sale
Sold out
Fisherman's toque

This multicolored stripy toque in natural fibers is inspired by the traditional fishermen accessories of the North Seas. Designed, knitted and made with care in Quebec, it respects the local know-how and offers a unique and unisex style. The high quality of its wool ensures warmth, softness and comfort.
90% extrafine Merino wool, 10% Cashmere
knitted and sewn in Quebec, Canada
yarn spun in Italy
woven logo embroidered label
Details
Size guide
Washing instructions
Traceability
Share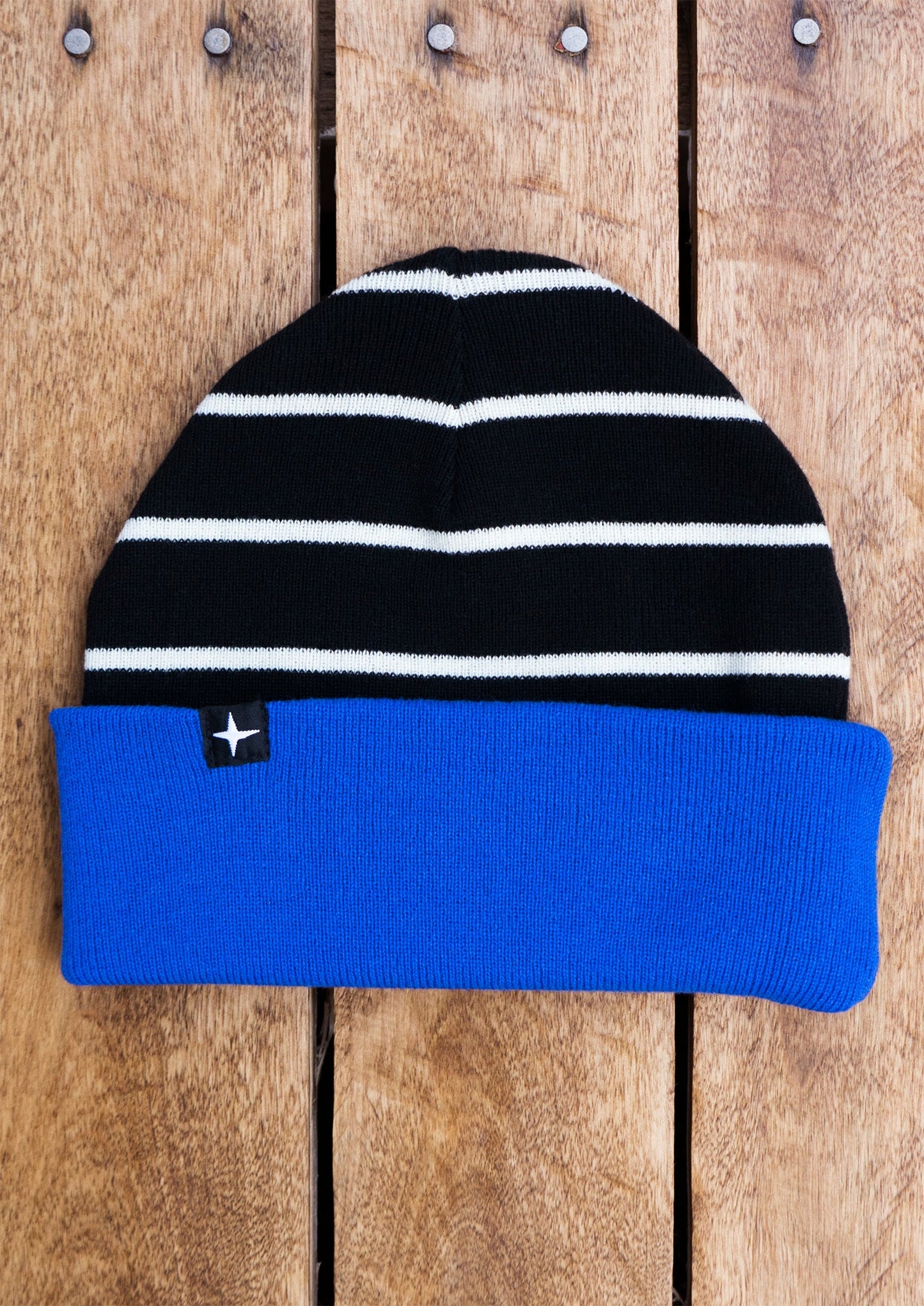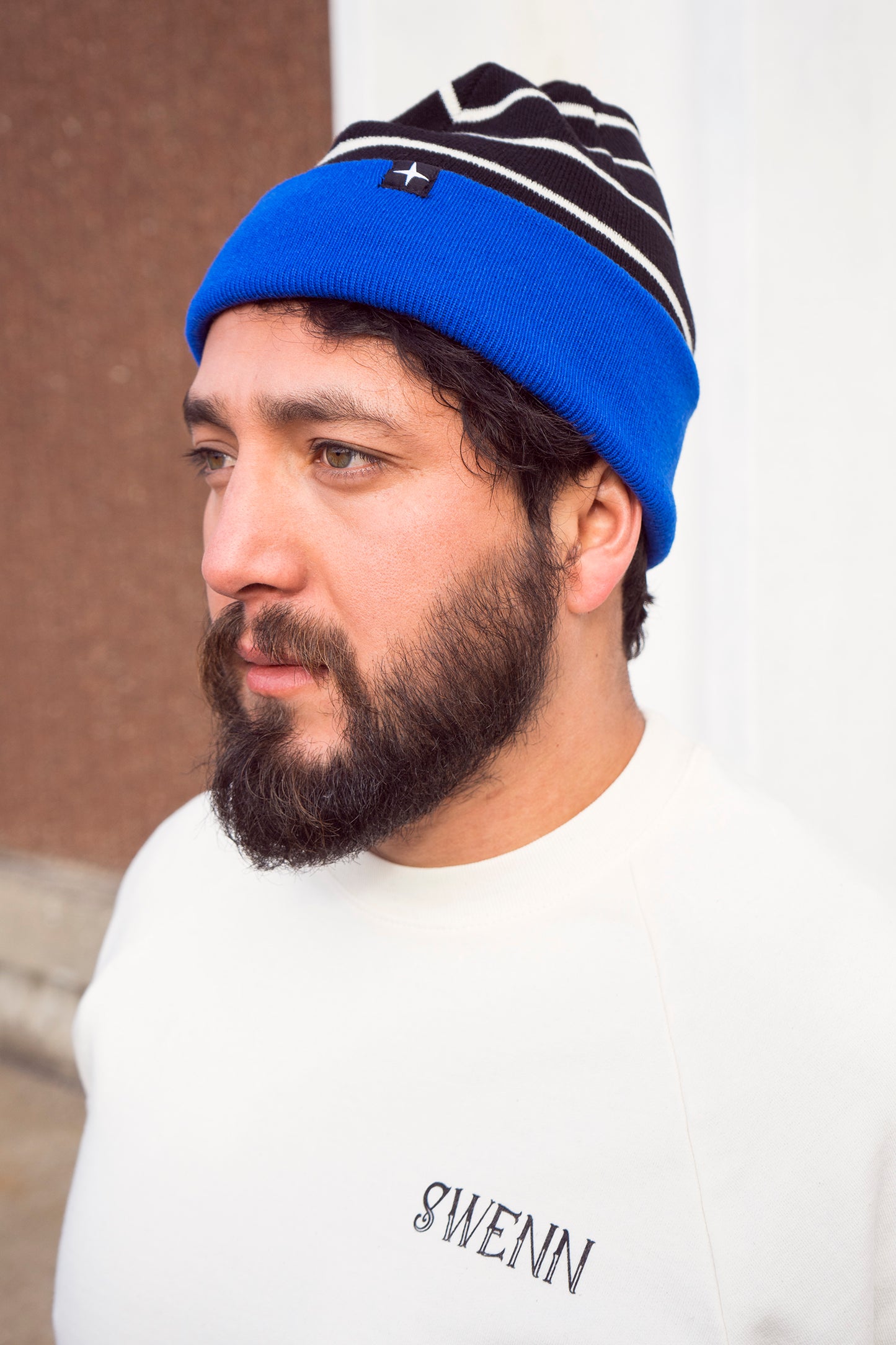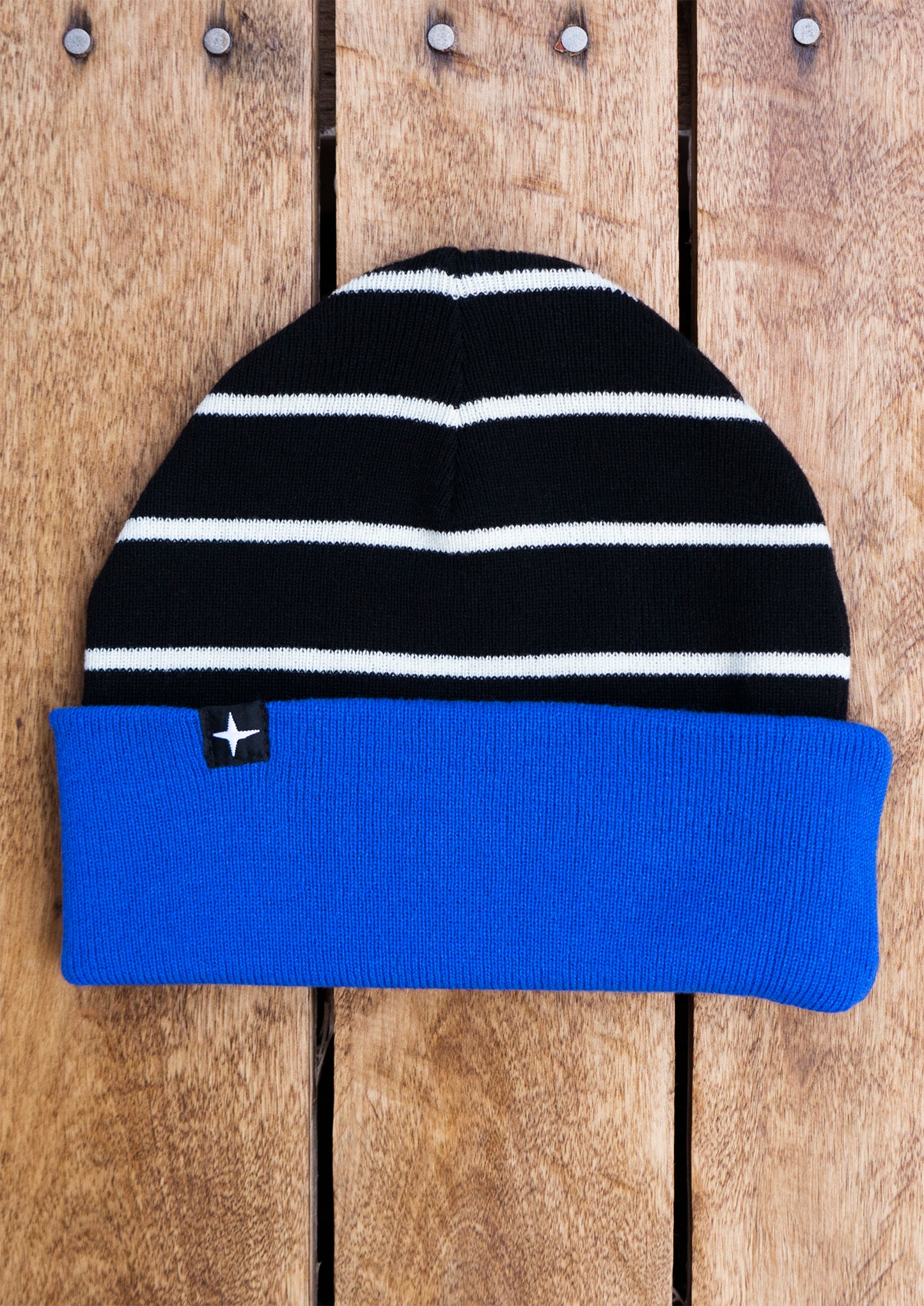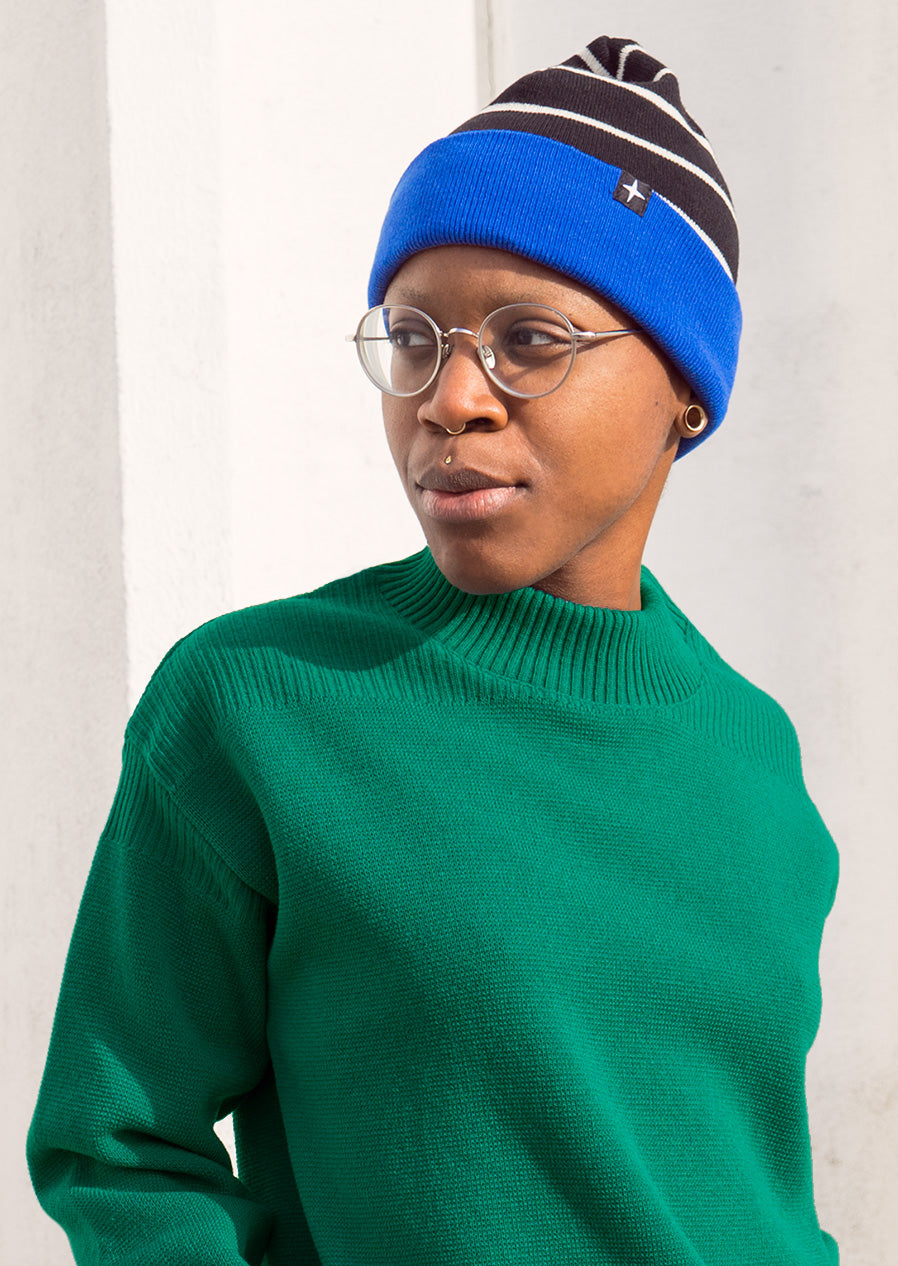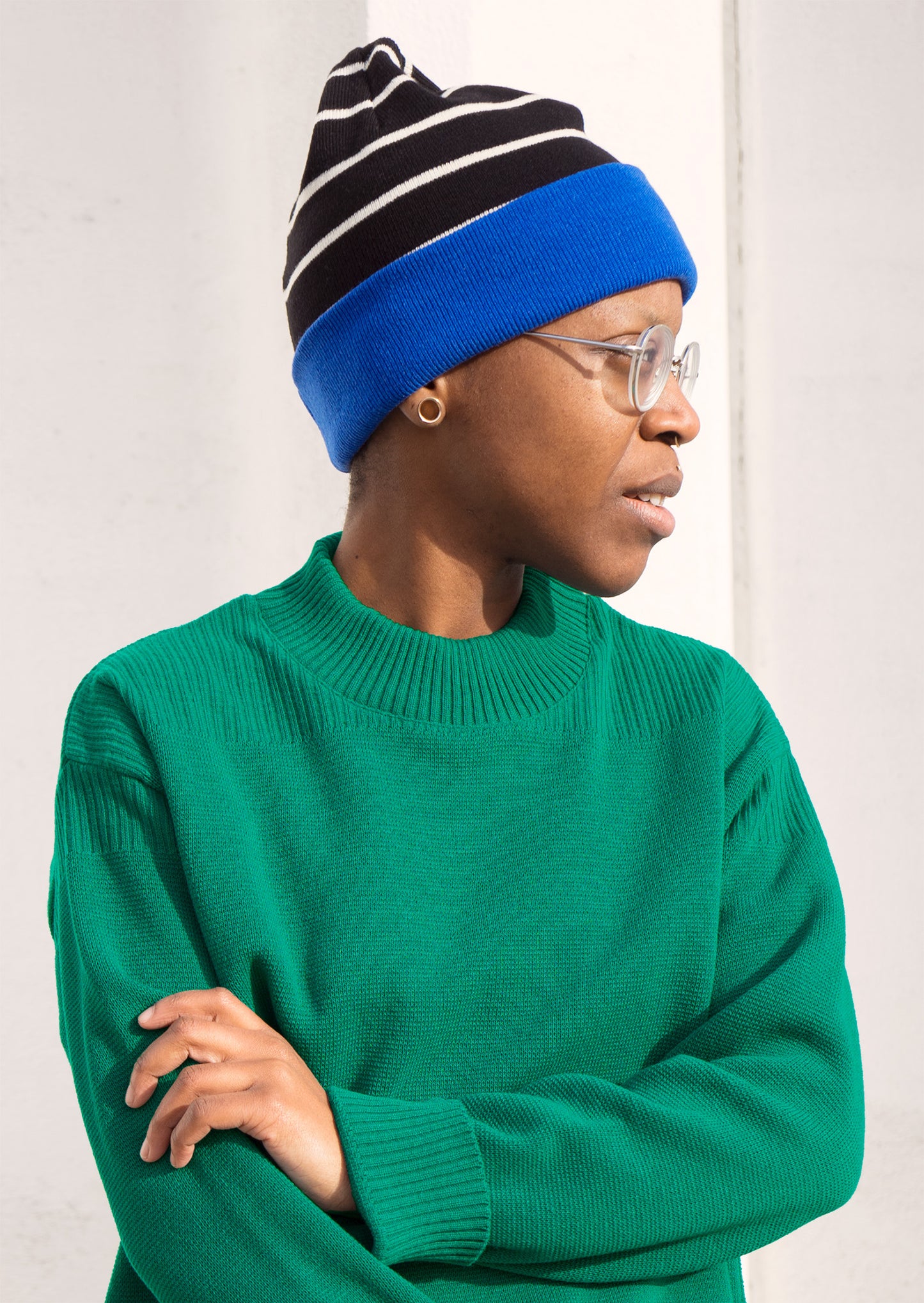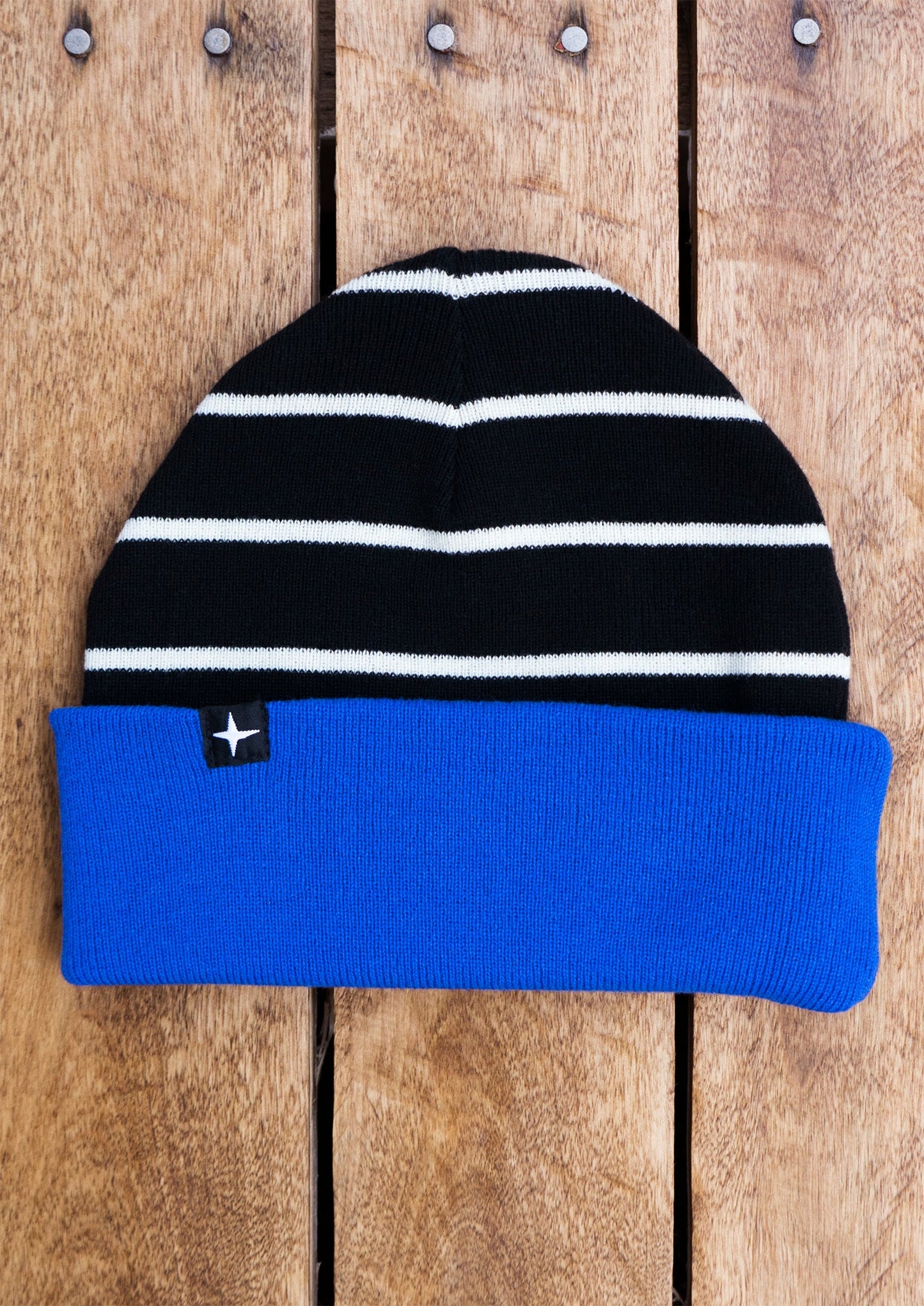 Details - Stripy toque
THE MODERN SAILOR
The style of tradition
This sweater was first designed in our workshop in Montreal, then knitted and sewn in a small workshop in Quebec. The know-how and the expertise of these knitters and sewers comes from more than 30 years of experience in industrial knitting and the creation of sweaters and more knitted items.

Merino wool is thinner than traditional sheep wool which gives it a second skin effect. It has the advantage to not scratch and to be antibacterial which delays the appearance of odors. It is also thermoregulatory, which means that it adapts to the ambient temperature. It is therefore particularly warm in cold weather and breathable when it is hot. Thanks to this unique material, our sweaters combine softness, shine and lightness, while ensuring warmth, comfort and style.

 

Cashmere is an animal fiber that comes from the Cashmere goat. This precious wool is particularly recognized for its finesse, softness and lightness.

Thanks to the natural blend of its yarn, this toque combines softness, shine and lightness, while ensuring warmth, comfort and style.

Our yarn was spun and dyed in a very fine spinning mill in Italy. Before to be spun, the wool fleece was imported from New-Zealand. Our yarn supplier respects our quality requirements and support the animal cause (mulesing free wool). 

 

By working with local producers and artisans, we provide jobs and help the local economy. Each worker was fairly and practically remunerated for their activity in humane, safe and respectful conditions. We are committed to following all fair labor standards and practices so that you can wear our clothes in peace.
Size Guide - Merino striped toque
BOTTOM WIDTH

- A -

CENTERED HEIGHT

- B -

S
8 1/4"
10"
L
9 1/4"
10 1/2"
* Please note that measurements are indicated in inches, with a tolerance of 1/4".
Washing instructions - Knitwear
"Washing woolen garments is often feared and uninspiring by hand washing, however it is simple to care for them appropriately and quickly." Kristell :)
Washing tips:
Choose a suitable detergent to avoid to damage the fiber. Either a special wool detergent or a mild shampoo for adults or babies.
Do not add fabric softener or bleach.
Add a low dose of laundry. Excess product may damage the fiber.
Flip your garment over to wash it on the reverse side.
Wash by hand in cold or warm water (no warmer than body temperature).
Mix gently, without squeezing the material, for about 4 minutes.
Let stand 5 mins.
Rinse 3 or 4 times as needed, in water at the same temperature as washing (temperature changes can damage the fiber).
Squeeze very gently, without ever twisting the garment. Wrap it in a cotton towel to finish spinning.
Leave to air dry, flat on the towel.
There is no need to iron your sweaters. The wool smoothes easily.
Our Swenn special soft tip:
If you find that the wool of your new Swenn sweater is a little rough, that's normal. To reveal its full softness and obtain total comfort, we advise you to wash it by hand once before wearing it. The softness of our Merino wool will then be optimal! You will notice that your Swenn sweater will become softer and softer after each wash.
Daily care tips:
Avoid as much as possible to keep your wool clothes (clean or dirty) in a ball, even more if they are wet. This tends to damage the fiber.
To avoid any distortion, it is best to fold your woolen clothes rather than hang them on a hanger.
It is quite normal that pills appear when you wear your sweater. It is possible to use an anti-pilling razor or a regular razor to eliminate them.
To prevent moths from damaging your natural fiber clothing, it is advisable to clean your closet regularly or to use lavender bags. Lavender being a natural repellent.
Merino sweaters and toques
 

 

 

 

FISHERMEN SWEATERS

Our collection of knitted sweaters and accessories in extra-fine Merino wool is inspired by the traditional clothing of the fishermen of the North Seas.

Back then, each family had its own knitting stitch. You could tell where a sailor came from just by looking at the twists in his sweater.

Swenn sweaters are the story of ethical, eco-responsible, timeless, comfortable and functional fashion.

 

MERINO AND CASHMERE WOOL

DESIGNED AND MADE IN QUEBEC

KNITTED AND SEWN IN QUEBEC

Our garments are designed in Montreal, then knitted on industrial machines and sewn by hand in a small knitting workshop in operation for over thirty years, located one hour from Montreal. Each sweater is therefore a truly unique piece.

We take the time to manufacture each item with care and precision, to ensure the best possible quality for our products.

 

MERINO WOOL

The Merino is a breed of sheep that produces a very fine wool. This wool is flexible, thermoregulatory and anti-bacterial. In other words, it is soft to the touch, adapts to the ambient temperature and delays the appearance of odors. It is therefore worn in winter as in spring.

 

SPUN IN ITALY

Unfortunately, the Merino sheep does not support the Canadian cold. We therefore collaborate with a spinning mill based in Italy, which offers a full range of yarns that meet our quality requirements. In addition, it supports the animal cause and ensures that the Australian and New Zealand sheep that provide the raw material are raised in freedom, in the open air and gently.

 

DETAILS

All our accessories come from Montreal suppliers. We use the best (YKK) zippers and top quality buttons.